Hello,
It is my first application.
The software converts clothing sizes from one standard to another. The following national standards are currently supported: USA, European Union, France, Italy, Japan, Russia, Australia, Germany, UK, China, Korea and Switzerland. The main advantage of the product is its ability to create several user profiles – for instance, for each member of a family – and use them for storing personal parameters, thus making it easier to find them when you need them. The app will also be a great choice for vacation and online shoppers. Finally, profiles make it a lot easier to buy your friends and family presents that will always be a good fit.
I would like to get feedback.
-----------------------------------------------------------------------------------------------------------------------------------------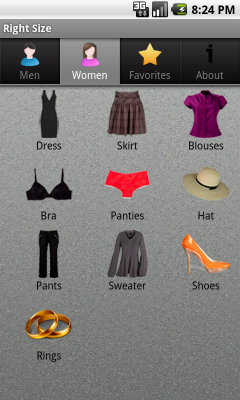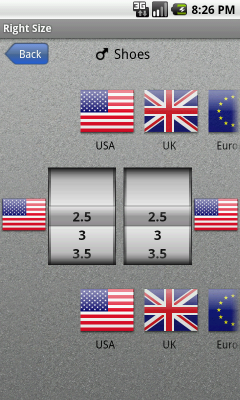 Feature:
Fast and easy conversion of clothing sizes.
Right Size allows you to convert the sizes "to and from" the regions:USA, Europe, France, Italy, Japan, Russia, Australia, Germany, UK, China, Korea and Switzerland
profiles support
favorite support
Clothes:
MALE:
Pants
Coats
Suits
Sweaters
T-shirts
Underwears
Shoes
Socks
Hats
Rings
FEMALE:
Dresses
Skirts
Blouses
Bras
Panties
Hats
Pants
Sweaters
Shoes
Rings
This application available in Google Play:
https://play.google.com/store/apps/deta ... .rightsize