Hello all,
I'm trying to make a game that communicate
via GTalkService
.
For example: player 1 moved up, player 1 send msg to player 2 'player 1 moved UP'. Then player 2 received the msg
via IntentReceiver
, read it, and redraw the player 1 position (in player 2 screen).
The foreground activity is the game which is interacting with user, and the receiver works in background.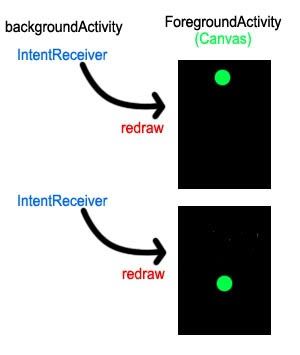 When i received an intent, i got an error like this :
"[font=Courier New]Unable to instantiate receiver dj.android.tes.myCanvas$msgReceiver:java.lang.InstantiationException : dj.android.tes.myCanvas$msgReceiver[/font]"
What's the problem?
Here's my code:

main.java
Using
java
Syntax Highlighting
import

android.app.Activity

;

import

android.os.Bundle

;

public

class

main

extends

Activity

{

/** Called when the activity is first created. */

@Override

public

void

onCreate

(

Bundle icicle

)

{

setContentView

(

new

myCanvas

(

this

)

)

;
Parsed in 0.011 seconds, using
GeSHi
1.0.8.4
myCanvas.java
Using
java
Syntax Highlighting
import

android.content.Context

;

import

android.content.Intent

;

import

android.content.IntentReceiver

;

import

android.graphics.Canvas

;

import

android.graphics.Color

;

import

android.graphics.Paint

;

import

android.view.View

;

public

class

myCanvas

extends

View

{

@Override

public

void

draw

(

Canvas

canvas

)

{

Paint

paint

=

new

Paint

(

)

;

canvas.

drawColor

(

Color

.

WHITE

)

;

paint.

setColor

(

Color

.

BLUE

)

;

paint.

setStrokeCap

(

Paint

.

Cap

.

SQUARE

)

;

paint.

setStrokeWidth

(

10

)

;

canvas.

drawRect

(

200, y, 220, y

+

20, paint

)

;

public

class

msgReceiver

extends

IntentReceiver

{

static

final

String

ACTION

=

"myIntent.intent.action.MY_CUSTOM_INTENT"

;

public

void

onReceiveIntent

(

Context

context, Intent intent

)

{

if

(

intent.

getAction

(

)

.

equals

(

ACTION

)

)

{
Parsed in 0.012 seconds, using
GeSHi
1.0.8.4

AndroidManifest.xml
Using
xml
Syntax Highlighting
<?xml

version

=

"1.0"

encoding

=

"utf-8"

?>

<manifest

xmlns:android

=

"http://schemas.android.com/apk/res/android"

package

=

"dj.android.tes"

>

<application

android:icon

=

"@drawable/icon"

>

<activity

android:label

=

"@string/app_name"

<action

android:name

=

"android.intent.action.MAIN"

/>

android:name

=

"android.intent.category.LAUNCHER"

/>

<receiver

android:name

=

"myCanvas$msgReceiver"

>

android:name

=

"myIntent.intent.action.MY_CUSTOM_INTENT"

/>
Parsed in 0.001 seconds, using
GeSHi
1.0.8.4
Thanks,
sasuke