[align=center]
Extended Checkbox List :: Extension of Checkbox Text List tutorial
[/align]
What you learn:
You will learn how to create new list adapters with several widgets in it and how you can catch selection events on them.
Difficulty:
2 of 5
What it will look like:
[align=center]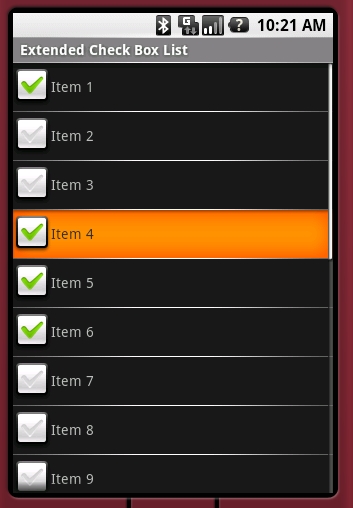 [/align]
Description:
This tutorial grew from another tutorial here which dealt with making lists with icons attached to each list item. (
Checkbox Text List tutorial
).
The original tutorial had several drawbacks:
* Missing right 'onCLick' handling for containing widgets
* No selection when using the arrow keys
* Checkbox will loose state while scrolling
* Initial values missed sometimes
The next tutorial will fix all those problems. I'll add code because the base code it two tutorials away, so it's useful to get it all.
1.
In order to be able to configure our list we need a class that holds all information each of our rows must have. It's the same taken from the previus tut but with a name change:
2.
The next step will be to create our 'View'. The view is responsible to draw a single row in our elemnt list. Also the view handles internally when the checkbox should be toggled. The stuff that needs to be added are 2 OnClickListener's, one for the checkbox and one for the view itself.
The checkboxs listener is used to update our ExtendedCheckBox after the user clicked the checkbox, this way our data inthe checkbox and the ExtendedCheckBox will remein consitent.
The second listener will be used to handle clicks directly in the view, so that we will able to change the checkbox not only by clicking on it.
Here is the code:
3.
Now we need have to create our adapter, which will be the link between the actual data and the layout. The difference bewteen our adapter and the one in the previus tutorial that we never cache the view, we always create a new one. Once a new item is visible our layout will call getView(), the problem is that if we use the old view we could get some problems on data persistence. So the securest way is to build a new view.
4.
The final step (of code) is to build our activity. It's important to build a list activity and to add some functionalty to be able to toggle the checkbox while navigating with the arrows. You could create it as a base class for your lists so you reuse the code.
Every ListActivity has a method that is been called when the user selects a new item in the list by pressing 'enter' or the device 'accept' key (located in the center of the navigation keys). So just implement that methode and toggle the right item.
5.
Here you got the layout I used and the localized string
main.xml
strings.xml
So we finished, a nice pice of code. Now it's on your own to add more stuff to it. I attached all sources in a eclipse project.
Cheers,
Moss