[align=center]
How to scale Droid emulator to correct physical size
[/align]
This snippet assumes you have already created your
AVD
as a
Droid AVD
either via the
Android SDK and AVD Manager
from
Eclipse
, or the command line with something like the following:
[font=Courier New]>android create AVD -n MyDroidAVD -t 4 --skin WVGA854[/font]
The
-t
option is system specific. In my case
-t 4
means to use the
Android 2.0
platform; yours might be different depending on how many platforms you have installed. You should check this with:
[font=Courier New]>android list targets[/font]
and use the
-t
value appropriate for your purposes. Note use of the
WVGA854 skin
.
[hr]
This is what we want (full size):
[align=center]
[/align]
To get the emulator's display screen (as it appears on your monitor) to be the same form factor as the
Droid handset
, do the following:
1)
Get your monitor dpi (from the manufacturer spec, or just measure it – it'll be close enough).
2)
Calculate the
scaled dpi
.
From
this link
(about 3/4 of the way down), we see that the default setup for the
WVGA854 skin
is
4.1 inches
(diagonal), but the
Droid handset
is only
3.7 inches
(diagonal). We need to scale the monitor dpi (from step 1) to take this difference into account. As an example, say your monitor dpi is 100 (mine is exactly 100, but 96 and 98 are typical values), we'd get:
100dpi * (3.7in/4.1in) = 90dpi
3)
Enter the
scaled dpi
value as an
emulator option
.
Assume we calculated a
scaled dpi
of 90 in step 2.
Eclipse
users: Run->Run Configurations..., Target tab, under Emulator Launch Parameters add:
[font=Courier New]-scale 90dpi[/font]
to the Command Line Options textbox. You may have to adjust the size of the dialog box to see the textbox; it's at the very bottom:
[align=center]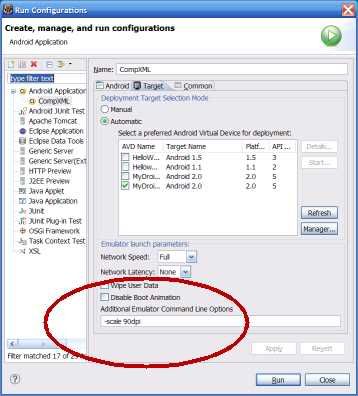 [/align]
Command line
users: Add '-scale 90dpi' to the end of your normal emulator command line:
[font=Courier New]>emulator <your usual options> -scale 90dpi[/font]
(Do not leave a space between the number and the 'dpi' suffix).
There is much more information on scaling and screen independence
here
. In particular, see
Table 1
(screens supported) and
How to Test Your Application on Multiple Screens
.
One small caveat: remember that there is no way to make more pixels on your development monitor. The
Droid handset
has 854 pixels crammed into the same space represented on your monitor by only about a third of that number, so the image quality on your monitor is going to be pretty poor. However, the size will be exactly correct for what you'd see on the
Droid handset
, which makes it perfect for testing UI form factor and human interface features.
Hint of the Day: Use Alt-Enter to toggle full screen display of your emulator.
Hope this helps!
XCaf