I submit a book for your consideration: The
Android Income Powerstart Guide
.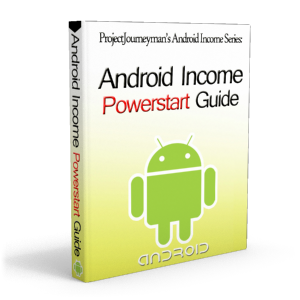 This book isn't as much about how to program, but about what you should do to position yourself to make money from your Android apps.
The
Android Income Powerstart Guide
shows the steps to go from idea to income. It doesn't go into depth on how to write the code, but it covers everything else. If your strength is coding, this will cover the gaps and give you the tools you need to make money from your app.
I feel the Android community has produced many great books on how to write code for Android (including the free AndDev book), but the business side of things is often glossed over. You can't just take the iPhone app business and marketing model and apply it to Android apps.
Since money doesn't always rain down just by releasing an app, this book covers what can be done to increase the amount of money that an app earns.
It also covers taking your free ad-supported app and turning it into a premium (paid) app.
If you want a
free
sample, the
Android Income Quickstart Guide
is a shorter guide that covers things such as:
Inserting ads into your app
Testing and finalizing your app
Deploying to the Android Market
Starting to earn from your ads
The Powerstart Guide goes much more into depth, particularly on the steps to take after deployment.
If you are planning to release and app or have an app that you want to earn more from, check out the Android Income
Powerstart Guide
.
The book is still at the launch price for another 12 days.
If you have any questions or suggestions, please let me know. It's an e-book, which means it can be easily updated with fresh content.